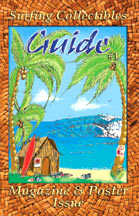 After years of research by some of the worlds top Surf collectors, we presented... The Surfing Collectibles Guide # 1, 'Magazine and Poster Issue'.

The worlds first comprehensive list of all the surfing magazines and surf posters pre - 1970.
In 32 beautiful full color pages, at 1/2 page size ( 5.5" wide X 8.5" tall ). Convenient, so you can easily carry it in your pocket to the next surf auction or da beach, even impress your friends and da wahine with your collectible info. Warmly reviewed in "Longboard magazine" (see below), "Surfers Journal" and "Eastern Surfing Magazine"

Surfing Collectible Guide #1 includes...

- A full list of every issue of every international surf magazine pre - 1970, (over 35 Magazines). Designed so you can mark your collection off as well as rate them. Along with stories and information about each magazine!!!

*Small photo of every first issue cover, along with many other covers used as a faded backdrop!!!

- A list of every Surf Movie poster, with stories and photos of many of the posters. This list is designed so one can check off and rate your collection!!!

- The Lisa Ann Rating System. A complete rating system for your collection designed for the Surfing collector and their unique problems!!!

- 2 pages on the care and restoration of your collectables!!!

Even pictures and bios on da cool collectors that made this all possible... da "Surf Guide T.E.A.M"
 
*Hawaii: Tim DeLaVega, Mark Fragale, Bob Jensen, Steve Wilkings, Margaret Lovett, Tanya Felix and Alan Carpenter
*California: Keith Eshelman, Alan Kukel, Joe Tabler and Cary Weiss
*Australia: Bob Smith and Al Hunt
*New Zealand: Mark Thompson
*South Africa: Harry Bold




"Longboard Magazine" Review of Surfing Collectibles Guide #1
By Ryan Smith

"These days nearly everything over two decades old is considered "classic". And, as we already know, all things that are classic are worth some dough. With the sports market experiencing an all time high point, and traveling road shows driving up demand and worth of odd antiques and curios, it was only a matter of time before the rapidly growing hobby of surf collecting surf memorabilia made itself official.
Tim DeLaVega, with the help from the T.E.A.M. (Together Everyone Accomplishes More), has compiled a price guide that enables the complete realm of surf collectors to gauge the worth of his/her goods. But besides helping collectors, it is hoped that the Surfing collectibles Guide will establish a rating system, ranging from "Cherry" (or mint condition) to "Stink eye" (Poor).
This 32 page booklet is the first guide of it's kind, and the first volume of many more to come. The inaugural volume focuses mainly on magazines, novelty books and posters printed prior to 1970. Each publication or poster is printed, briefly explained and listed alongside and accompanying "Cherry" price figure. Original surf-inspired newspapers, programs, promotional pieces, magazines, comic books, cartoon novels, photographic yearbooks and posters are all accounted for in this wonderfully constructed guide.
Surfing collectibles guide also offers amateurs and wannabes tips for properly handling those fragile items, and list the possible dangers that can lurk during long term storage. There are even pictures and short biographies on some of the world's most dedicated collectors on the front and back flaps.
It is important to remember, though, this is only a price guide, the value for each collectible is always subject to change, And it is for this exact reason that the surfing collectible guide will offer subsequent issues. Watch out for the second issue coming soon, covering the complete list of of surf books."