Na Pali He `Aina La`a (Na Pali is Sacred land)

Malama `Aina (Care for the land and everything on her)

Malama Kai (Care for the sea and all within her)

Malama Na Kupuna (Care of the culture through genealogy, placenames, grave sites, oral history and historical sites)

We all must accept responsibility for this jewel or we will lose her
Kekahas Paddy Boy Malama
"The King of Na Pali Coast"
Paddy Boy on right, with Uncle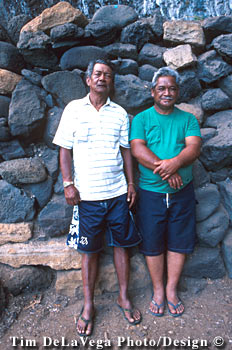 Standing in front of ancient site
For close to 50 years Paddy Boy has fished and hunted the coast, his exploits are so renowned that Pakalas Steven Akana wrote "The Ballad of Paddy Boy Malama", which one can occasionally hear on KUAI radio.

As a boy Paddy Boys father Joseph Ku Malama first taught him the ways of the coast. "hunting, fishing, picking lemu" with the familys homemade 21 redwood boat "Malama", "that held 21 people". Launching it from Ploihale Beach by "rolling it on any logs and sticks available" After his fathers untimely death, when Paddy Boy was a HS freshman, his Uncle Joe Quin Malama took over and Na Pali became a life long passion and adventure. If your lucky on a sun filled day, you can still see the legend fishing the coast in his boat " Da Hawaiian"

In the early days Paddy Boys says "their was more fish and goats, not so many turtles as you where permitted to take them, but their was more life on the coast. "never saw anyone one but hunters hiking except Dr. Weatley who came in the 60s." There was a gentlemans agreement about how the coast was used "The westsiders would go as far as Honopu, leaving Kalalau and up the coast for the north shore crew. "Nualolo Kai everyone would meet their, Lou Rago from Lihue, Carlos Andrattei (father)from Kapaa" and spend the night together, talk story. "Their was quite a few people on the coast" but few tourist and hikers. "Their was no tours then but my Uncle would sometimes take friends from the Mainland down the coast and show them the sea caves and waterfalls". As with the family name "Malama (Hawaiian for respect, honor, care) The family elders taught all the children to care for the coast. The ancient sites "where kapu, because sacred, yeah? So we never knew too much about the old-time stuff in this place" When fishing "we just used to catch only what we could use, never sold.. for family use"

In the late 60s the hippies started hiking in, but few tour boats till Clancey Greff and Harada started their Zodiac tours, (In the late 70s) then things got loco", So for years the local familys enjoyed it alone.

As for the future Paddy Boy hopes "local people get more chances of getting permit, state could change the rulings so it would be easier" for them to enjoy the coast. "I feel the state is keeping their children from going"

Kayaking inside a sea cave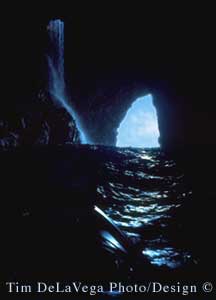 Monk seal and his friend